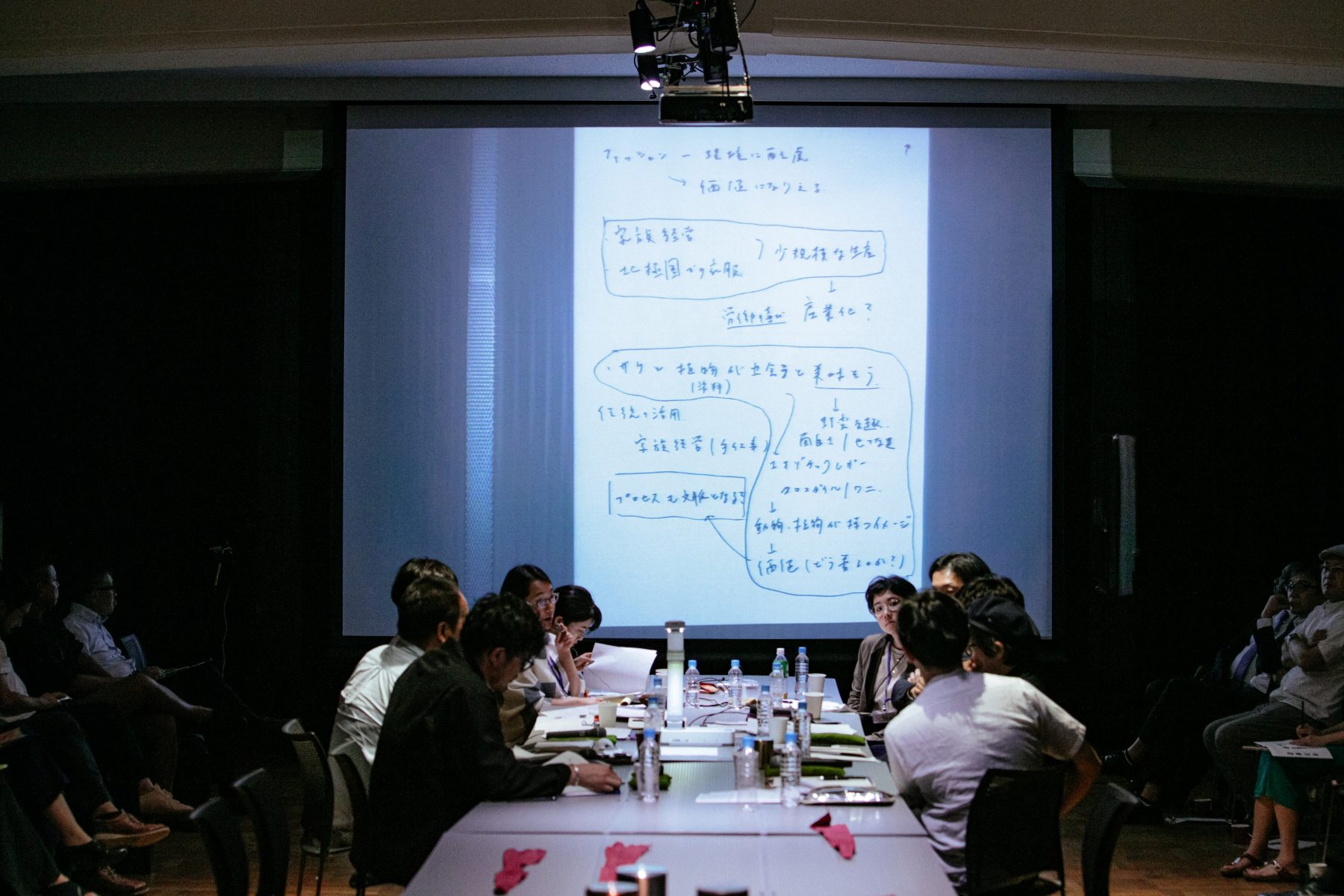 We–The Future Seen Through Craft
Inaugural symposium hosted by the Center for Innovation in Traditional Industries at Kyoto Seika University and Kyoto Kougei Week 2019
Date and Time: 1 September 2019 13:00-17:30 (Doors Open 12:00 noon)
Venue: Kyoto International Manga Museum 1F Multipurpose Video Hall
Karasuma-Oike, Nakagyo-ku, Kyoto 604-0846 JAPAN (former Tatsuike Primary School)
Host: Center for Innovation in Traditional Industries, Kyoto Seika University
Support: Kyoto Kougei Week Executive Committee
Cooperation: Agency for Cultural Affairs, Government of Japan; Kyoto Prefecture; Kyoto City; Kyoto Chamber of Commerce and Industry
Participation: Free / Pre-registration required
//////////////////////////////////
We–The Future Seen Through Craft:
【Discussion】Passing the Baton to the Future
Speakers
Yuta Nakamura (Specially Appointed Lecturer, Department of Fine Arts, Faculty of Art, Kyoto Seika University)

Born 1983 in Tokyo, Nakamura currently lives and works in Kyoto. In 2011, he obtained his Ph.D. in Fine Arts from the Graduate School of Art at Kyoto Seika University. His academic research and artistic practice focuses on ceramics and tiles, from the perspective of "craft as it relates to folk customs and architecture." Recent exhibitions include the 20th Biennale of Sydney (Carriageworks, 2016), Aichi Triennale (Aichi Prefectural Museum of Art, 2016), Willow Festival, Little Willow Festival (Gallery Koyanagi, 2017), and MAM Research 007: Sodeisha - The Dawn of Contemporary Japanese Ceramics (Mori Art Museum, 2019). Publications include Out of Mingei (co-author, Seikosha, 2019).
http://nakamurayuta.jp/information/
---
Tsutomu Kanaya (Representative, Cement Produce Design Ltd.)
Born 1971 in Osaka Prefecture. After graduating from the Faculty of Humanities at Kyoto Seika University, Kanaya worked at a planning and production company and an advertising agency before founding Cement Produce Design Ltd. in 1999. Through the company, he brings new ideas to traditional industries and produces innovative products that create new possibilities. Together with over 500 small factories and artisans across Japan, Kanaya has initiated collaborative projects and built networks to support market distribution. Recent publications include Chisana Kigyo ga Ikinokoru (Small Companies Survive) (Nikkei Business Publications, Inc.). Kanaya is a Special Research Fellow at Kyoto Seika University's Center for Innovation in Traditional Industries.
---
Shuji Nakagawa (Craftsman, Nakagawa Mokkougei Hirakoubou) 
Born 1968 in Kyoto City, Nakagawa graduated from Kyoto Seika University in 1992 with a major in Sculpture. Upon graduation, he began his apprenticeship as a woodworker under his father Kiyotsugu (a holder of Important Intangible Cultural Property) and learned the techniques of making ki-oke (wooden buckets), sashimono (traditional wood joinery), kurimono (hollowing out forms from a single block), and wood turning. Nakagawa also created and presented modern artworks made of iron, while working as an artisan for ten years. In 2003, he opened Nakagawa Mokkougei Hirakoubou, an independent workshop in the town of Shiga (currently Otsu City, due to a merger) in Shiga Prefecture. Using traditional ki-oke making techniques, he creates champagne coolers with new and refined design, among other handcrafted products. Nakagawa is a Special Research Fellow at Kyoto Seika University's Center for Innovation in Traditional Industries.

---
Okisato Nagata (Co-Founder/Planning Director at Te Te Te Consortium)
Born 1978 in Fukuoka Prefecture, Nagata graduated from the Kanazawa College of Art with a major in Aesthetics and Art History. In 2001, while still a college student, he produced swords in partnership with Hermès, which were presented at contemporary art exhibitions including the 6th Istanbul Biennial. He later worked at the 21st Century Museum of Contemporary Art, Kanazawa (part-time) and a design production company before arriving at his current position. Nagata specializes in business strategies and product development based on the concept of "crafting craftsmanship." From traditional crafts to cutting-edge technology, he has been involved in business planning at companies in various fields, to shift existing perspectives and structures to reflect current trends. Since 2012, he has organized the Te Te Te Traders Expo. Nagata is a Special Research Fellow at Kyoto Seika University's Center for Innovation in Traditional Industries.
---
Takahiro Yagi (Sixth-Generation Tea Caddy Maker at Kaikado)
Born 1974 in Kyoto City, after graduating from university and working at the Kyoto Handicraft Center (Amita Corporation), Yagi took on his position at Kaikado as the sixth-generation tea caddy maker. After training, he took a solo trip to London in an effort to expand overseas sale and promote the family business. He has developed new lines of products through collaboration with designers abroad. He is also one of six young successors to traditional craft businesses that make up the group GO ON, which aims to bring life to completely new and unprecedented ideas. Through his work, he explores new ways for craft to exist, unbound by preexisting concepts. Yagi is a Special Research Fellow at Kyoto Seika University's Center for Innovation in Traditional Industries.

---
Takashi Kurata (Philosopher; Associate Professor, Meiji University School of Science and Technology)
Born 1970 in Hyogo Prefecture, Kurata graduated from the Division of Philosophy in the Faculty of Letters at Kyoto University, and received his Ph.D. from the Graduate School of Human and Environmental Studies at the same university. He specializes in philosophy and environmental humanities and after working at the Research Institute for Humanity and Nature, he was appointed to his current position in 2014. In recent years, Kurata has investigated the conditions of thought in contemporary society through various fields such as crafts, architecture, design, agriculture, and folklore from the perspectives of "localized standard" and "intimacy." Major publications include Intimité de MINGEI (author, Meiji University Press, 2015), 'Seikatsu Kougei' no Jidai (The Age of "Lifestyle Crafts") (coauthor, Shinchosha, 2014), and <Mingei> no Lesson—Tsutanasa no Giho' (Lessons in "Mingei": The Techniques of Unskillfulness) (author and editor, Film Art Inc., 2012). Kurata is a Special Research Fellow at Kyoto Seika University's Center for Innovation in Traditional Industries.
---
Yuji Yonehara (Director, Kyoto Seika University Center for Innovation in Traditional Industries)
Born 1977 in Kyoto Prefecture. Yonehara is a Kyoto-based writer and journalist specializing in the field of craft. In 2017, he was appointed Special Lecturer at Kyoto Seika University's Center for Innovation in Traditional Industries. His work focuses on social research and education in the context of craft. Publications include Kyoto Shokunin - Takumi no Tenohira "Kyoto Artisans: The Palms of the Masters," Kyoto Shinise - Noren no Kokoro "Historic Kyoto Stores - The Spirit of Noren" (co-author, Suiyosha), Listen to the Blues of Artisan in Kyoto (Keihanshin L Magazine), and The Emperor Higashiyama's Enthronement Ceremony in the Edo Period, and Its 1/4 Size Model (co-author, Seigensha).
---
MC
Kazuma Yoshimura (Kyoto Seika University, Vice President)

Yoshimura completed doctorate coursework at Ritsumeikan University Graduate School. He specializes in the history of ideology and manga research. Currently he is working to address societal issues using the results of his research. His published works include Sabetsu to Mukiau Mangatachi (Manga that Confronts Prejudice)  (2007), Manga no Kyokasho (Manga Textbook) (2008), Fukusuu no Hiroshima (Multiple Hiroshimas) (2012), "Konbiniensu na Manga Taiken toshiteno 'Chiran'—Jitsuroku Kamikaze no Media Rikigaku" ('Chiran' as a Convenient Manga Experience—the Media Mechanisms of Jitsuroku Kamikaze) (printed in Chiran no Tanjyo edited by Yoshiaki Fukuma, Makoto Yamaguchi, 2015), Tezuka Osamu—Gyakufu ga Hagukunda "Manga no Kamisama" (Tezuka Osamu—The 'God of Manga' Raised in Adversity) (printed in Hitobitono Seishinshi volume 4, Iwanami Sosho, 2015), Shogai no Aruhitotachi ni Muketa LL Manga eno Shotai—Hatashite Manga wa 'Wakariyasui' noka (An Invitation to Lättläst Manga for Readers with Disabilities—Are Manga Easy to Understand?) (2018).
Kanoko Tamura, Nobuko Aiso, and Tomoko Momiyama
Note:
The Japanese honorific "-san" is used throughout the text in place of Mr./Ms.

//////////////////////////////////
■Nakamura: I make things as an artist and not as an artisan. So I was hoping to sit back and observe the discussions from a distance today, but right before the symposium, Yonehara-san asked me to take notes during parts one and two to be shared on the overhead projector in this final session. I wasn't quite sure what to do, but I wrote 7 pages.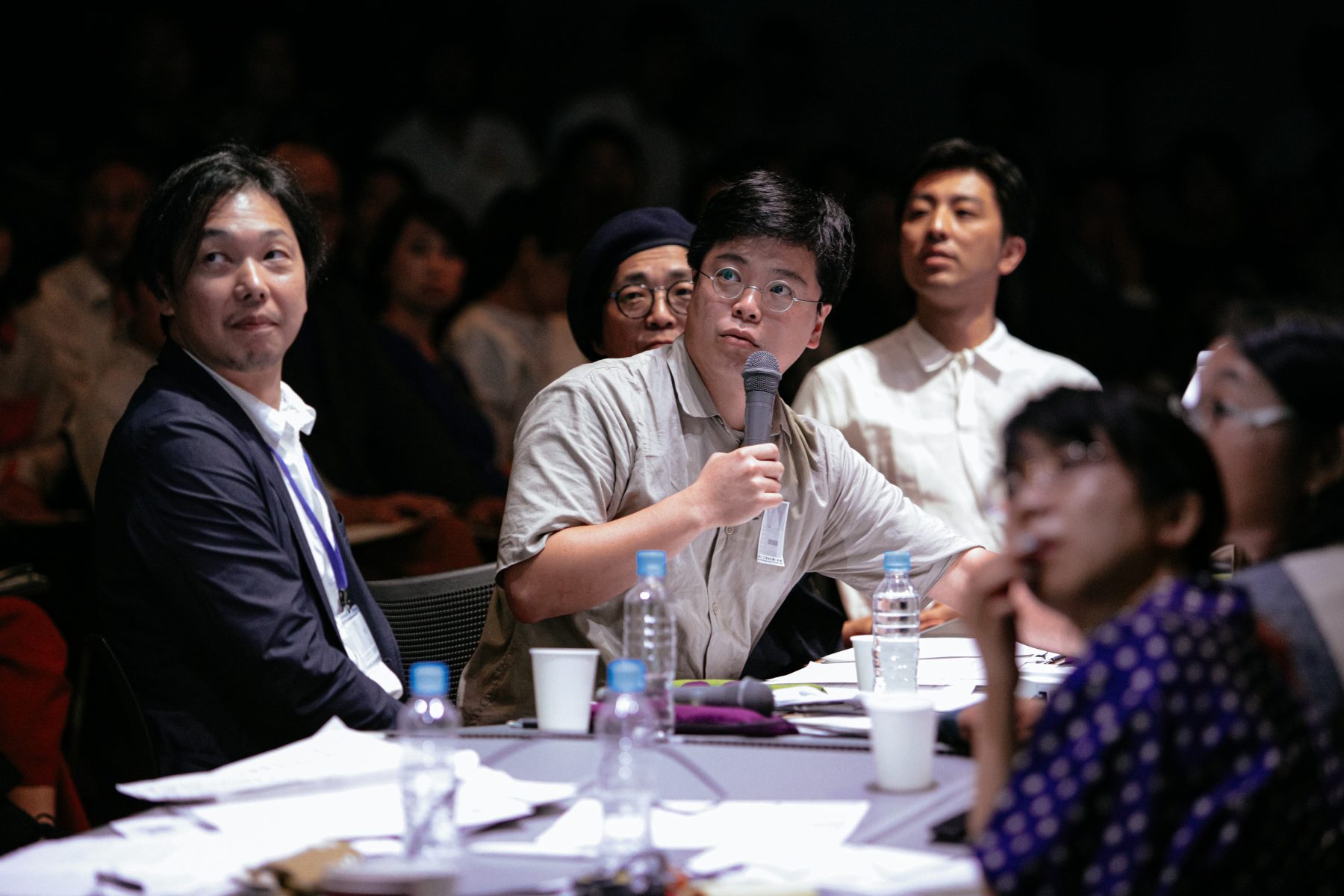 (The projection on the screen is out of focus and the notes are illegible.)
(Jokingly) It's a beautiful image, isn't it? This is how I feel right after I wake up.
The main focus today has been on industrial craft. But as Nagata-san mentioned, it's also necessary to include artistic craft (bijutsu kougei) or independent artists in our thinking. In his opening remarks, Sacko-san talked about traditional crafts in Mali as something that is passed down through heredity and ethnicity, and that whether or not something is passed down is contingent on trust. The fact that in some cases, a craft is not passed down from parent to child, offers us a guide to thinking about sustainability in this field.
Listening to part one of the symposium, I thought, "a combination of salmon and plants sounds delicious." A garment made of plant-dyed fish skin evokes a different feeling compared to crocodile leather. I tried to imagine what it would feel like to wear salmon skin clothing of the Ainu and Arctic indigenous peoples shown in the slides.
When the three of us (Kurata, Nakamura, Yonehara) met in preparation for this symposium, I talked about kougei (Japanese craft) as being something that is "savage." I intentionally chose to use this word because the way I see it, today's traditional craft is moving towards extreme refinement. But in actuality, I feel that the word kougei carries both savageness and childishness.
That is the starting point for my view on craft. For example, there is a pre-war folklore scholar named Wajiro Kon. His perception of craft was a little different from the way Soetsu Yanagi and others perceived mingei (folk art). Kon joined the Hakuboukai group, founded by Kunio Yanagita and his colleagues in 1916. They researched minka (rural, traditional Japanese houses) of farming villages that were becoming forgotten amidst the modernization of urban living spaces. Kon was also drawn to daily tools and simple crafts, and made sketches to document them. His drawings were compiled and published in the book Nihon no Minka (Japanese folk dwellings) in 1922, with commentary from the architectural historian and architect, Terunobu Fujimori. Using very simple words, Fujimori writes that Wajiro Kon wanted to express "the appeal and the inexplicable sadness (setsunasa) of the primeval relationship between humans and objects."
When we think about craft, I feel that it's essential to have a sensitivity not only to its beauty and appeal but also to its sadness. I sensed a kind of sadness when I saw the salmon skin shoes of the Ainu people.
I understand that it's important to look at the industrial use and viability in the fish skin project, but I was made to reflect on how this sense of attractiveness and sadness could function within industrial craft.
■Kurata: Yet again, we have a very interesting topic to discuss. You pointed out two aspects of craft: savageness and sadness. We talked about nature towards the end of part two and the natural world is not a gentle or easy place to be.
Nature exists regardless of humans. But there is a kind of savageness in the way humans boldly stand up to nature. At the same time, human use of nature for survival points to a type of "poverty"—that is our need to rely on nature in order to live. That very real sense of our life and survival is a kind of sadness, perhaps.
In that sense, the savageness and sadness that Nakamura-san brought up are two sides of the same coin. But we don't have to use these words necessarily. Would anyone like to respond?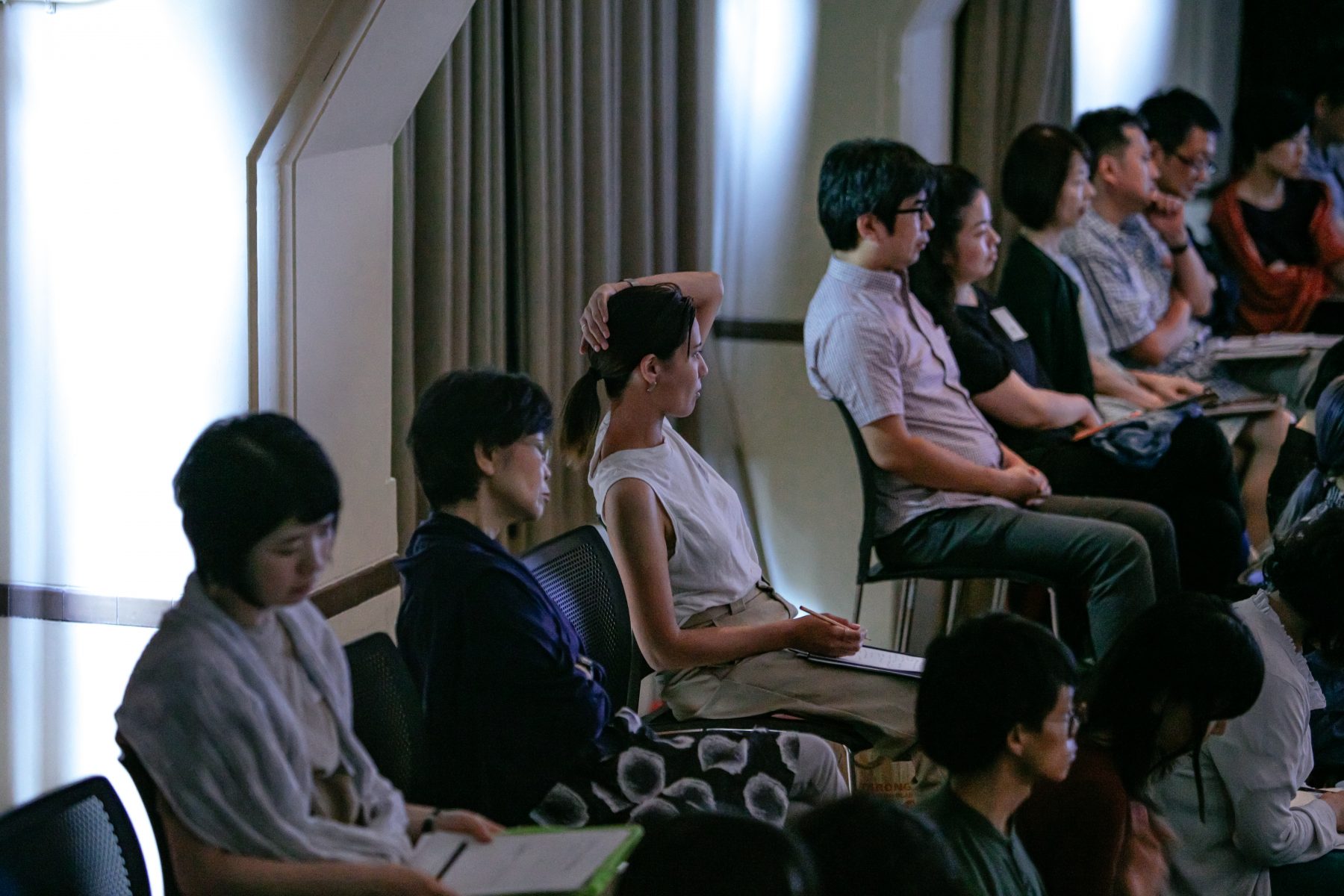 ■Nakagawa: As described by the expression "hare to ke" (the extraordinary and the ordinary), ki-oke (wooden buckets) were not considered to be extraordinary craft objects until about 30 years ago. It was categorized under mingu or ordinary folkcraft. My grandfather used to say, "buckets are for use in the doma (the dirt floor area in Japanese homes, between the outdoors and indoors)." In other words, it doesn't belong on the tatami or on the dining table. You place it on the dirt floor and use it there. My grandfather worked hard to create a bucket that could decorate the tokonoma (an elevated, recessed space in a Japanese room usually decorated with flower arrangements, hanging scrolls, artworks, etc.). On the other hand, there are crafts that have traditionally belonged in the realm of elegance, such as Nishijin brocade, or garments for the aristocracy. There is a deep divide between these two worldviews.
■Nakamura: I was also thinking about how craft is often talked about as an independent and isolated field, but as we just heard, craft objects exist in relation to living spaces. Whether it belongs in the doma or the tokonoma makes a difference, for example.
When thinking about the future of craft, I think it's important to take an interdisciplinary approach, even though we tend to perceive craft as an increasingly narrowing and refined field. What Nakagawa-san mentioned just now made a lot of sense for me. Wajiro Kon also drew oke placed in the doma in his sketches.

■Nagata: I'm involved in a project at the moment, to find out what possibilities become available if we go back about 2000 years in the history of urushi lacquer.
Today, urushi is perceived as a lacquer used mostly for painting bowls, but if we look back about 3000 years, the emphasis was on its use for reinforcing and water-proofing wood. If we go back another 500 years, the polishing techniques were not developed yet, meaning it was used primarily as a waterproofing and strengthening agent. As we travel further back in time, we find the oldest use of lacquer in Japan around the middle of the Yayoi period (300BC-300AD) on the base of a ship where it appears that it was rubbed with the lacquer tree.
Nowadays, people are exploring the use of urushi mixed with nanofiber to reinforce materials. Ironically, we find hints for its future usage by looking back 1000 or 2000 years. Or to put it another way, the original properties were forgotten in the process of the craft becoming sophisticated. For some time now, I've worked to shed light on the original benefits and strengths.
Urushi is quite strong. What's more, it absorbs moisture and hardens even in Japan's climate. More recently, we have managed to solve the issue of sensitivity to UV light. Although this may sound contradictory, I'm working on these projects with the belief that, by reverting to a rougher form of craft, we might glean a view of what it could look like in the future.
■Kurata: Our main focus today was on stories from Kyoto and overseas, so I didn't bring this up earlier, but I often travel to the Tohoku region in my work. Setting aside whether or not the word "savage" is appropriate, I do feel something along those lines when I am there. Moreover, there is a very real issue of poverty that the term setsunasa (sadness) euphemizes. But this poverty also conversely manifests as a kind of strength and resilience. There was a time when I felt stuck, unable to articulate these feelings, and I had an opportunity to share my thoughts with makers and sellers. In response, they asked, "are you suggesting that we should be poor?" and "would that sadness lead people to buy our products?" which put me at a complete loss for words.
Personally, I am drawn to these aspects and I wonder if sometimes people can't help but reach out to things that look ragged or worn out.
Perhaps it's necessary to reveal what lies under all the layers, while still holding onto the part we wish to share with others.
■Kanaya: We talked about nature a little while ago, but we live in a time where we need to face all these new technologies that are coming out like AI, just as much as we need to confront the issues of nature and the environment.
When I talk with people working in tech, they're eager to pitch in new and fun ideas into our world of craft. And they tell me, "craft feels good."
■Kurata: Undoubtedly, craft is a field that has been taken over by industry in modern society. As the world became increasingly industrialized, craft took different approaches for survival and some went in the direction of fine art. What we find today is a result of that.
The reason why I'm drawn to mingei (folk craft) is because rather than following this shift towards industrialization, it tried to highlight what was being left behind in the process.
One of the conversations we've had today was about how people are paying more attention to craft now than art. But if we're not careful, this situation might actually become a disadvantage.
I don't know if this is an appropriate way to put it, but I would argue that there is a kind of strength and resilience that comes from being the underdog. A part of craft in Japan has been about offering alternatives and creating a society that allows for a do-over, even if you fall out of the mainstream.
Listening to everyone's points, I wondered if it's too risky to say "craft has won" or "we're now in the era of craft" because then we might lose track of its true potential within modern society.
By the way, this is not at all to suggest we shouldn't look at what AI has to offer.
■Nakagawa: Ultimately, I think craft is a vessel. You could even say that craft itself functions as a platform. Earlier I suggested that there is a hierarchy between art and craft, but I believe it's more accurate to position craft as being the supporting foundation on which art, design, and industry exist.
Craft represents the rise of civilization. By holding a tool in hand, by holding a crafted object, we became human. If you look at it like that, art, design, and industry are just the parts laid on top of the platform known as craft. That's why I think it's problematic to place craft, art, design, and industry on the same level, and flatten the relationship.  
■Yonehara: When an idea or theory becomes solidified through fixed definitions, it becomes very powerful. But at the same time, this kind of gatekeeping leads to more and more people being kept out of those defined boundaries. This is something that could be said for both mingei and kougei. One good thing about craft is the division of labor in the production process. Nishijin brocade and kyo-yuzen textile dyeing are examples of crafts that are often talked about in terms of the number of processes. There are many artisans whose work does not result in having the finished product in their hands. In fact, artisans who only work on one part of the process, like spinning silk thread, make up the majority of the craft community in Kyoto.
These artisans were not visible in the folk craft perspective and are now left out of the move towards selling craft products overseas or promoting the work with the help of a designer. It may not be impossible for them to benefit from these trends, but it's nevertheless difficult. While those who can make bold, flashy moves are awarded attention in the world of craft, other have fallen through the cracks. Having observed this, I personally feel the danger and risks associated with prescribing definitions. I can understand the reasons behind wanting to do so, and I see the appeal of clear-cut definitions. But it makes me cautious, because keeping boundaries vague is also a way to be more inclusive.

■Yagi: There's something I want to ask Kurata-san. Nakagawa-san and I both returned to the world of craft from the "outside." Before going into the family business, we had jobs outside of craft, or worked as an artist. For us, craft is the mainstream, which is why we don't see it as being marginalized or neglected. What are the views of the craftspeople in the Tohoku region?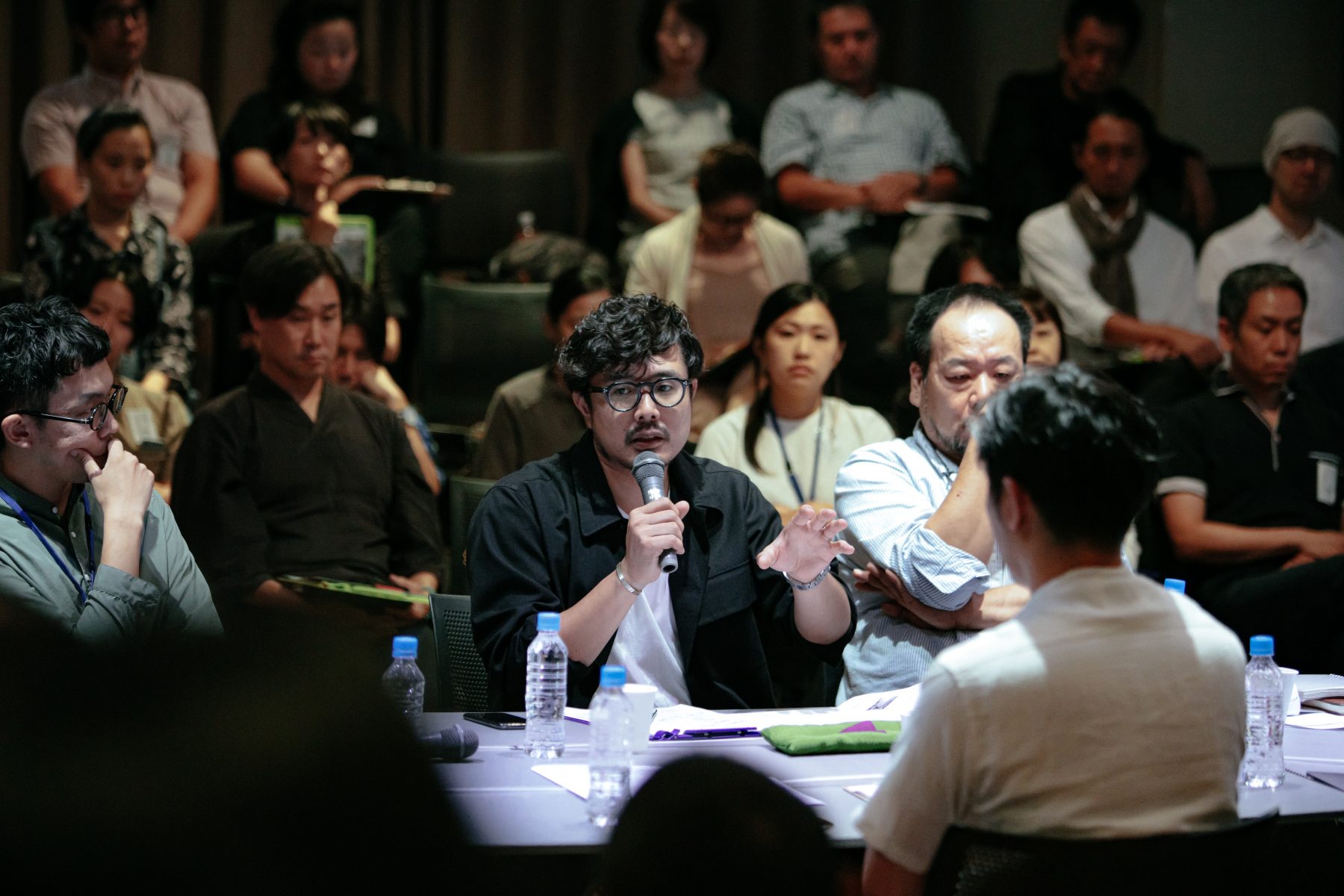 ■Kurata: The sheer breadth of nature in the Tohoku region and the pepole's relationship to it, their perception of it, are totally different from urban areas, and that's what I wanted to point out in my example earlier.
There was a mention of  "falling through the cracks," but perhaps this is a very 20th-century concept. This was a time when there was a singular, predominant mainstream in work, lifestyle, and societal characteristics. But now, things have become so diverse that we can't even see the answer. In a way, it doesn't make sense to argue over what's right or wrong, who's winning or losing. But the problem is, not everyone can dismiss these categorizations as nonsense—the majority of people feel that they've "failed" under this framework. In contrast, I think Nakagawa-san and Yagi-san's work and ways of working offers alternative models to the mainstream.
■Nakamura: I thought Nagata-san's diagram (of different categories within craft) was really interesting. Recently, I've started to think that the word "craft" encompasses a much wider field than what I had initially imagined. In my notes, I wrote down children's crafts and repairs of daily objects under this more expansive definition. Oh, and also Hyperart Thomasson by Genpei Akasegawa.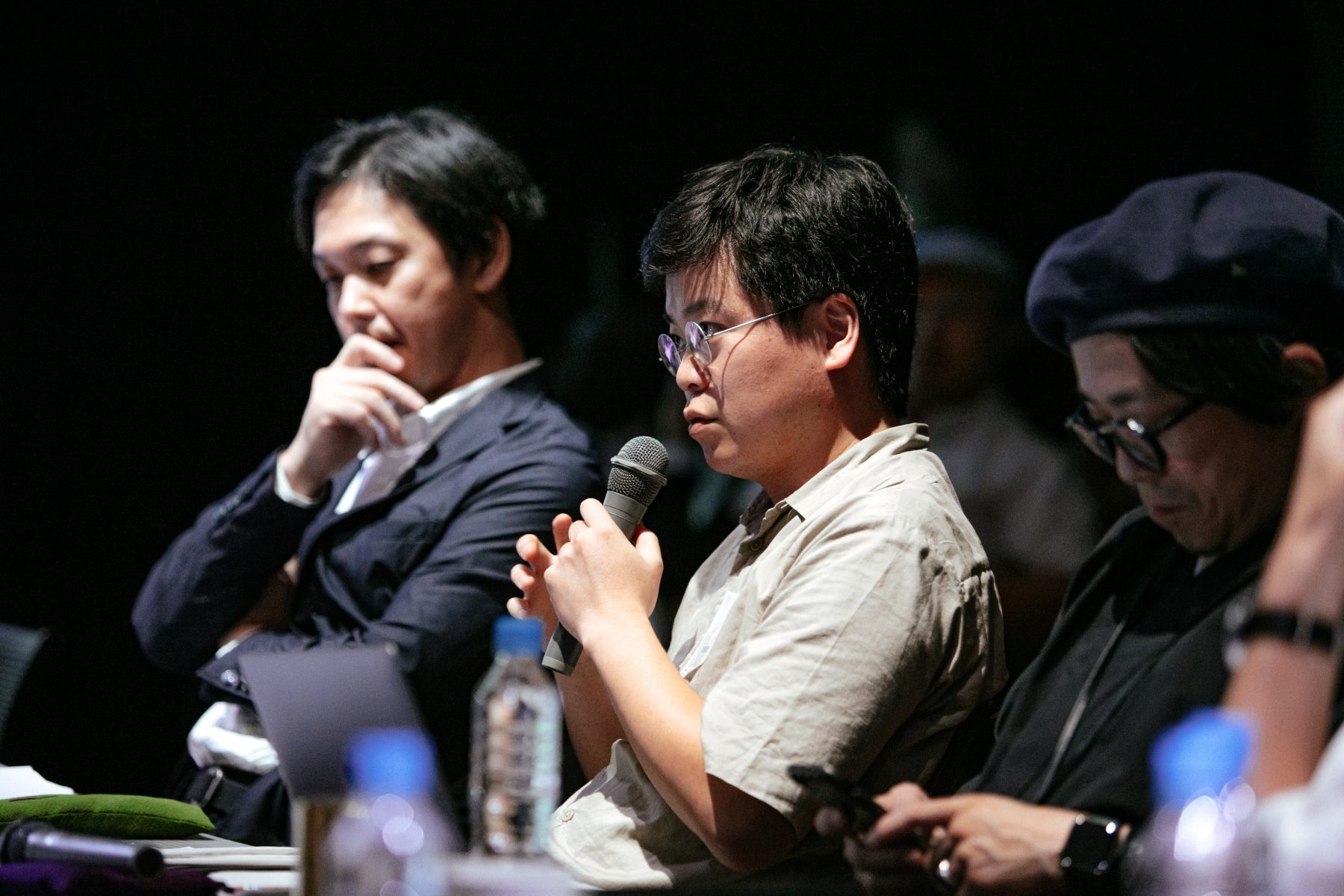 In my own work, there's something called "Out of Mingei." It's a bibliographic research project that aims to investigate the correlation between various activities that took place on the periphery of the mingei (folk art) movement. We hosted five talks at the Kyoto bookstore Seikosha, which has been compiled into a book. What I felt through this project was that in a way, mingei was a sustainable movement. It was an attempt to achieve industrial expansion whilst maintaining its ties to local materials and knowledge. On the other hand, the Japanese avant-garde art movement that emerged around the same time, did not last. But perhaps we can reexamine it as a novel idea from today's perspective.
I recently read a book by Hiroshi Unno, called Nihon no Art Nouveau (Japan's Art Nouveau). In it, there is a story about Kanae Yamamoto, who led the Free-Drawing Education Movement and the Peasant Art Movement in 1919. The book connects Soetsu Yanagi and Kanae Yamamoto. While Yanagi traveled to Korea before the war and found beauty in the folk crafts of Joseon Dynasty (i.e., looking back at the past), Yamamoto studied abroad in France, aspiring to become a painter, and stopped by Russia on the way back to Japan. That was right before the Russian avant-garde, when folk art was gaining attention. Upon his return, Yamamoto advocated for the Peasant Art Movement in Japan, working to spread wood sculpture techniques amongst farmers so they could earn supplemental income through craft during the off-season. That is to say, he was more future-oriented. But this was only a temporary movement and it didn't have the reach that mingei has today.
It's interesting to consider the differences between Yanagi and Yamamoto. As we talk about sustainability, I think it's also important to look at crafts which are not.
■Yagi: Looks like not much has changed in the world since then.
In craft, up until now the market value was determined primarily by the makers, and the buyers could only choose from what was available.
But now, buyers or the consumers are the ones to determine the value. We have created products, based on the consumers' voices. This is where I see the potential for change in how value is communicated.
■Nagata: Let's look at bowls for example. I think there is a standard size that you see most often in stores. But back when a bowl maker was your neighbor, the user may have said to the maker, "I want it a little bigger" or "make the kodai (the foot) shorter," and they would have created a custom bowl together.
But in the past few decades, the two became distant, or rather completely disconnected. The reason for that may be attributed to social and economic changes or the societal climate in which the sounds coming from craft workshops are considered to be noise pollution.
Now we are seeing more open factory events and craft tours, and I think finally we are able to readjust the relationship between the maker and the consumer. In the past, it would've been impossible to visit Nakagawa-san or Yagi-san's workshop. Now we have opportunities to see inside their studios. I think we're entering a positive era for craft.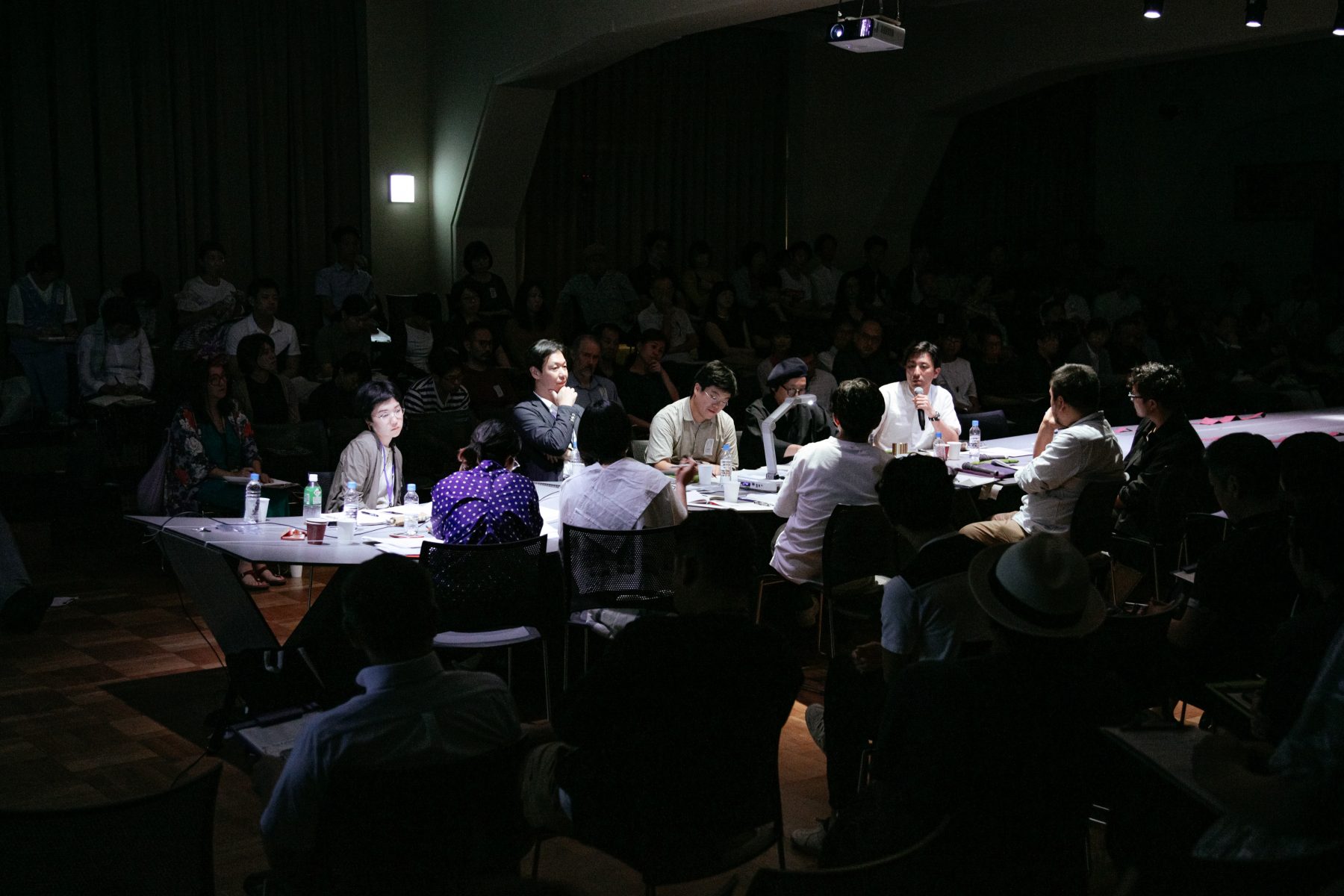 When one of the speakers commented that the fish skin project sounded "delicious," I was reminded of the fact that the two things you need in farming are wind and bees. In order for crops to grow, it has to sway in the wind, and it needs to be pollinated by the bees. Because craft contains many aspects of its regional identity, different crafts from different regions coming together is a kind of cross-pollination between cultures and ways of thinking. Someone once said, "that's the role of bees" and I realized that's the role I wanted to take on in my work.
■Kurata: Nicely put. Alright, let's start to wrap up.
■Yonehara: I want to say just one more thing. He isn't a panelist today but Niiyama-san from TSUGI is here in the audience. I'd like to hand over the mic to Niiyama-san, who has spent years in Sabae City, Fukui Prefecture, observing the changes in the region, including what has been happening with the craft industry there. Food and manufacturing are just one of the things he looks at when thinking about the region.
■Kurata: He also made this desk.
■Yonehara: He worked with us on spatial and graphic design for today's event. He is a graduate of Kyoto Seika University.
■Kurata: He's a bee, a worker bee!
■Yonehara: Exactly. When we started talking about bees, I knew I had to bring in Niiyama-san.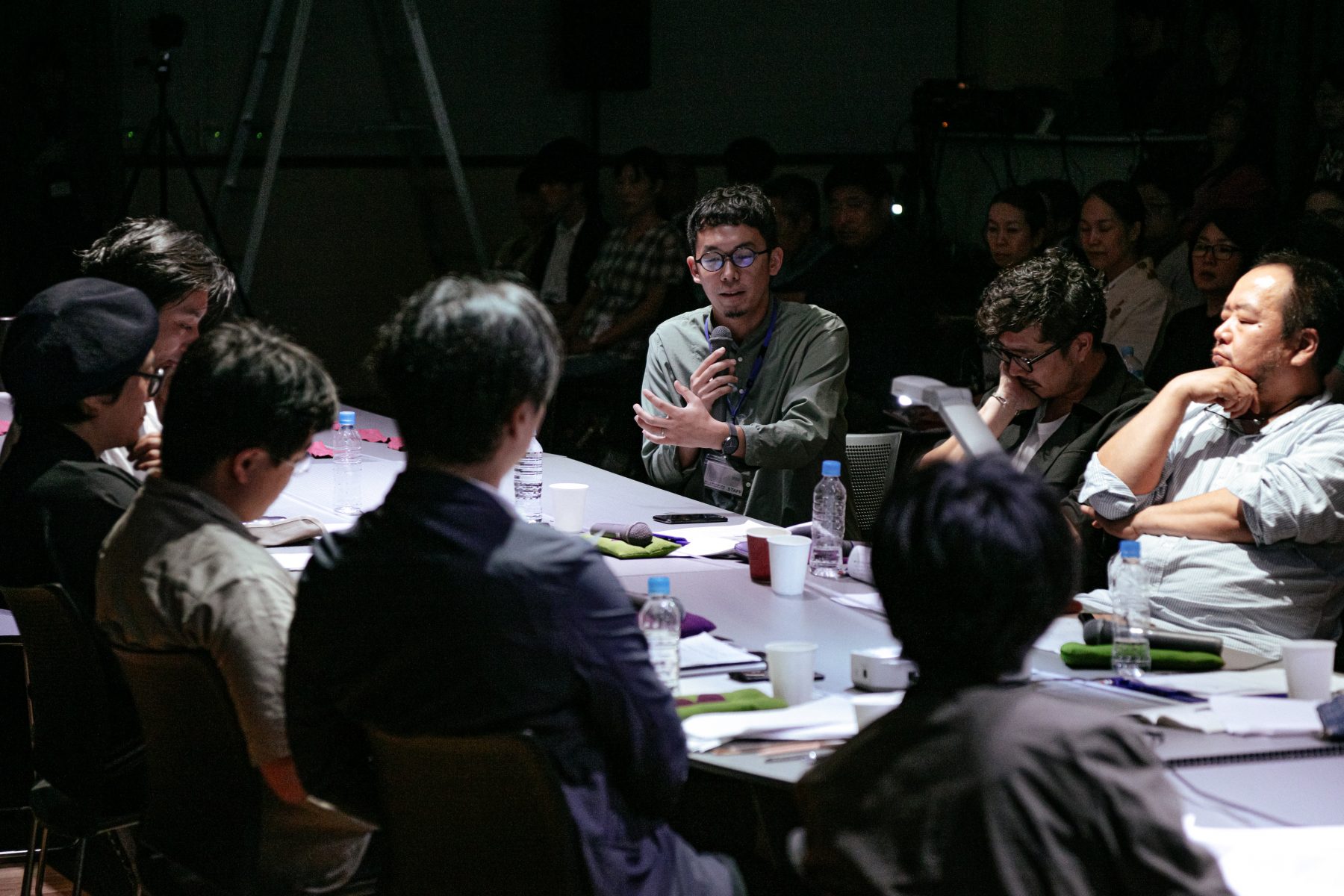 ■Niiyama: I currently work as a designer. I'm originally from Osaka, and it's been 11 years since I moved to Sabae City in Fukui Prefecture. I first moved to Sabae thinking that I wanted to be involved in regional revitalization (chiiki-kassei) but when I arrived, there wasn't much energy in the town. Sabae is known for manufacturing and craft, and I realized that before you can begin to revitalize the region, you have to energize the local manufacturing industry.
So how do we activate that? Thinking about this led me to realize the importance of improving the economy at the most basic level of "doing business" (making sales, generating income).
That's one of the reasons why I became a designer. The people who exist "around" the manufacturing industry (like designers) are essential, if I may say so myself. In the case of Sabae, the designers' work contributes to improving the region. At Kyoto Seika University, I studied architecture but after graduation, I took the leap to becoming a designer.
Sabae has a large population of transplants. Of the new residents in Sabae, there are people who work in design and management as well as entrepreneurs who want to start a shop or a café. As these communities slowly grew in number, I started to see that the connections between the manufacturing industry, town planning and human relationships formed a kind of ecosystem. I believe the more people we have on the periphery of the manufacturing industry, the more options there are when a region or a traditional craft looks for ways to survive.
…does this connect back to the story about bees? Was that ok?
■Kurata: Don't worry, it was great. I think the discussion has turned into the kind of conversation to be had over drinks. Since we have the audience here, who have patiently stayed with us this whole time, I'd like to invite them to participate. I'm sure they have expectations and/or criticisms…would anyone like to share?
■Symposium attendee: (from the audience) I'm a product designer and there's something I've been wondering for a long time. Today's conversation almost touched on this question I have, so I'd like to get your thoughts on it.
My theory is this: I think Japanese people are the only ones who perceive craft and industrial manufacturing as completely distinct entities, like water and oil.
With the Meiji Restoration, a lot of foreign products and ideas entered the country, including the culture of industrialization and mass production. That's when all of Japanese crafts and manufacturing up to that point was cut off from the modern, imported conception of industry, or rather it was almost entirely thrown out because it was "antiquated." This is the history of industrialization in Japan. I suspect that it was from this point on that people in Japan started to see industrial manufacturing and crafts as being divided.
In Europe, on the other hand, I imagine that the crafts of the Stone Age and today's 3D printing technology are perceived as being points on the same continuous timeline.
When I organized a calligraphy workshop for an international student I was teaching, I had him mount his piece on a hanging scroll. I told him to attach the calligraphy paper onto the scroll, and he immediately reached for tape. If you're Japanese, you would know not to use tape on a scroll, and because of the total separation of traditional craft from modern industrial products, we know not to mix those two together.
However, in Europe, traditional handwork became mechanized and computerized gradually over time and for them, "craft" and "industrial manufacturing" are just words to describe ways of thinking in the world of monodzukuri or object-making.
Now that industrialization has somewhat reached its ultimate form, I think people are turning to craft as a source of inspiration. That's what I wanted to hear everyone's opinions on.
■Kurata: Thank you for this important point. I imagine that Yagi-san and Nakagawa-san would have the most to say on this topic.
■Yagi: I often travel to countries in Europe to sell our products, so I will try to share what I've observed there in my response to your point. I personally feel there is more division between craft and industry in Europe. For example, in tea shops, 97% of their teas come in teabags. Only 3% is loose leaf tea. Their quality standards are extremely high and they closely examine how the teas are made and processed.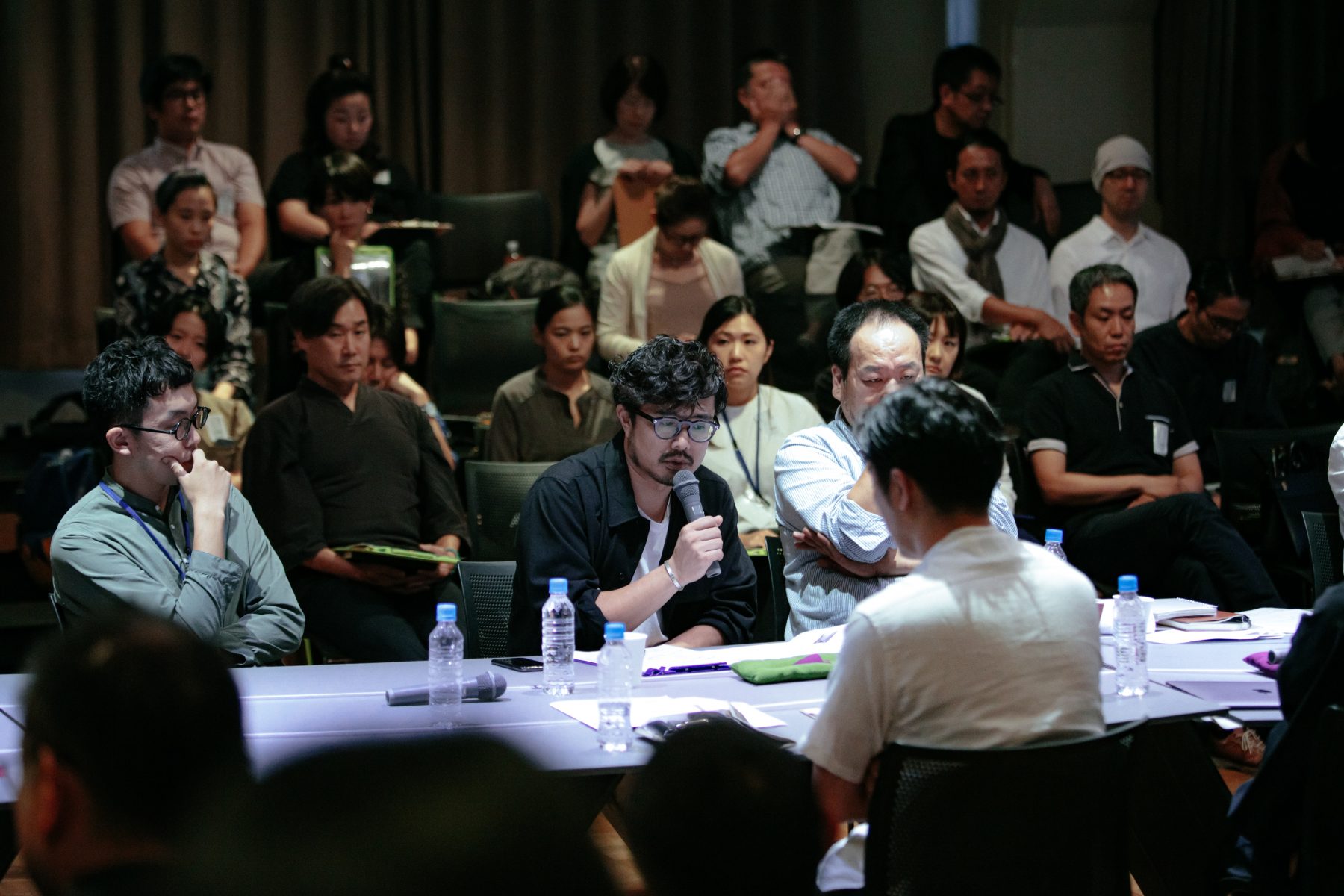 Tsuji-san (Toru Tsuji of Kanaami-Tsuji) often says, "I don't mind the kanaami (utensils and grills made with woven wire) sold at 100-yen stores." Every object has value, it's just that they differ in direction or purpose. He is able to respect the 100-yen wire netting as a manufactured product.
When the members of GO ON partnered with Panasonic, we were bombarded with questions from the company's designers. They asked about things we don't normally explain verbally and were curious about why we do things a certain way, or how a part is made.
As makers, we don't see craft and industrial manufacturing as being water and oil. In our collaboration with Panasonic, we experienced the challenge of trying to match the "vectors" of our production processes.
When I told them that our tea caddies change color with age, Panasonic's response was, "well, we can't sell that." That's how it all began.
Although it took some time to get started, the significance of this collaborative product is that there are similarities in the act of object-making, even if we (Kaikado and Panasonic) are oriented differently. The people who create metal molds at Panasonic think the same as us. So I felt a sense of camaraderie there, as though we were both swimming in the same waters.
■Nakagawa: I think the word "artisan" might help us understand this question. In Japan, we have the word shokunin. There's also kouba-no-occhan (the old guy at the factory) which means more or less the same thing.
My point being, in Europe there is a clear distinction between a "worker" and an "artisan," and it seems that they do not mix. I also have the impression that there is a more distinct separation overseas.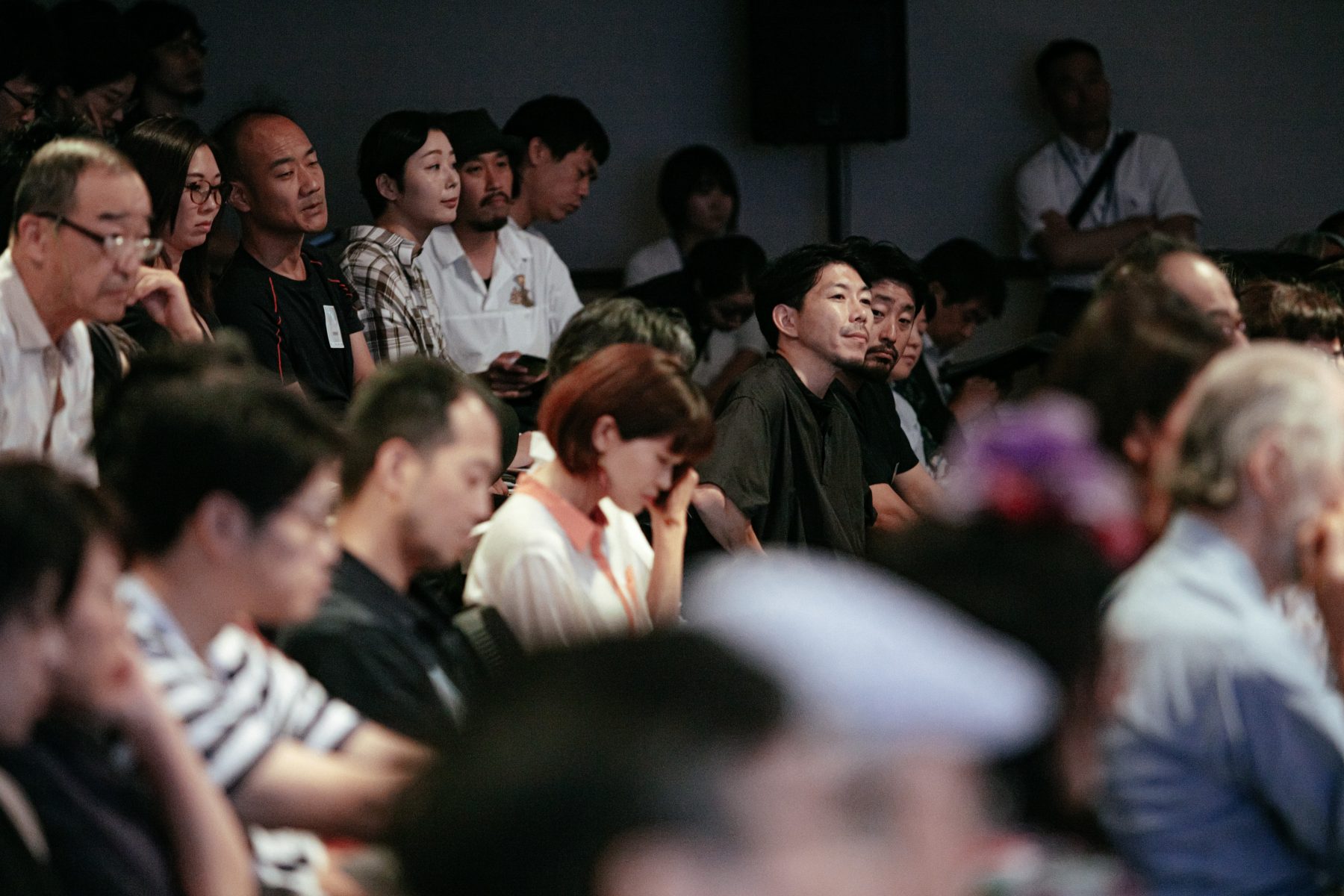 ■Nakamura: I think this connects to William Morris' Arts and Crafts Movement. Morris gave a lecture to students titled "the Art of the People." In it, he asks them to identify who designed churches in ancient times, when there was no such thing as an "architect" in a village. He answers that it was the stonemasons and blacksmiths. Regarding the work of the artisans, Morris said that a person needs eyes, hands, and feelings of joy towards labor.
I think the word roudou (labor) has a very negative connotation in Japan. If you replace the act of making something with the word "labor," then I feel that craft and industry are both on the same plane. But artists or sculptors are not likely to use the word "labor" to describe what they do. They would probably say seisaku (creation). Even from the point of language, I think craft and manufacturing exist in close proximity.
■Yonehara: Both craft practitioners and on-site workers in an industrial setting use the word shigoto (work) to describe what they do and their attitudes toward work. Shigoto refers to their tasks, as well as the quality of what they make. The word encompasses their physical actions, way of life, and their interactions with others. It's a straightforward term that accurately describes the attitudes of those who use the word. In that sense, I think it's a good word. It contains a lot of meaning that can't be conveyed by the English word "work."
■Nagata: I might be repeating what he just said, but I really like the expression, "tema-hima wo kakete (to spend time and effort)." It's not just about exerting effort (tema), it's also about spending even your spare time (hima) on making something. It describes the act of striving to achieve a finished form, even when you're not actively working. So it refers more to the person's way of life. I think the difference lies in whether the labor is to feed yourself, to earn your pay, or to work towards your personal success. It's less about the difference between craft and manufacturing, and more about the individual motives for engaging in labor.
■Kurata: The difference in work styles.
■Nagata: Or, an awareness of the reasons for working. These days, perhaps there is a slight difference between craft and manufacturing, regarding what is considered worthy of compensation. Rather than thinking of these two fields as being similar, it might be better to reconceptualize them as totally distinct categories.
I've never heard the phrase tema-hima from people working in Industry 3.0 and beyond, although they all say "tema wo kakeru" (to put in effort). But those from Industry 1.0 and 2.0 use the term tema-hima. I think they are aware that even hima (spare time) is necessary in object-making.
■Nakagawa: I may be criticized for talking too much, but I wanted to make one last comment.
Our perspectives on value is changing as we speak. If we were to focus solely on monetary value, the less time and effort we put into something, the higher the value. But one thing craft is able to show us is that there is value we can't put a price on. And at the same time, we need to put a price on it, for our own survival.
That's why I believe craft will become a tool to transform consumer society. Earlier (in Part Two), we talked about the recent decline in social awareness, and I think that is another area in which craft can be used to enact societal change.
I think it would be impossible to accomplish these things through art. This belief comes not only from my past experiences in art, but also because of its deep ties to ideology and religiosity. Craft on the other hand, is an extension of daily life. Regardless of ideology or religiosity, this (picks up a cup from the table) is a cup, and this (points to the table) is a table to anyone in the world. Craft has the potential to unite the world as one, without ideology or religiosity. This is why I hope to see more conversations on craft and its relevance in future societies.

■Kurata: I'd also like to make one last comment. The Arts and Crafts movement was mentioned earlier, which brings me to the philosopher Hannah Arendt. In her book The Human Condition, she differentiates human work into three categories of labor, work, and action. Arendt defines labor as a reaction to the natural conditions of survival, such as the need for humans to eat in order to live. The fruits of such labor ultimately become subject to consumption. Much like the way a meal can be consumed in an instant no matter how long it took to prepare it, the necessities for survival are quickly depleted. On the other hand, the results of work last forever according to Arendt. This is the case for architecture, as well as craft. I won't go into detail about the third category of action, but the point is that these diverse ways of working all became consolidated into "labor" in the modern era. Work became labor, meaning what was previously produced to last across generations became subject to rapid consumption. It's truly endless if I start talking about theories on the problems of human labor, so I'll stop here. I just wanted to share one argument on the topic.
Setting aside the difference between craft and industry, I think that in the past 30 years, Japanese society has experienced a recession in the type of manufacturing that was once a part of our everyday landscape.
Manufacturing and object-making used to be familiar to us, but they have disappeared before our very eyes. We no longer hear the sounds of something being made, whether by machine or by hand, in our neighborhoods.
Next thing you know, we live in a world where everything is just one click away and we can survive without leaving the room, much less the house. In such an environment, perhaps the act of making, regardless of if it's craft or industrial manufacturing, has once again become an important action as we think about the future of our society. I think that's what Niiyama-san and his colleagues at TSUGI are exploring in Sabae. It seems that today's discussions revolved around these points.
■Yonehara: We've come to the end of today's event and we have no answers, but I believe this reflects the sincerity of our approach. We don't want to jump to conclusions. I plan to organize spaces like this in the future to continue discussing these universal topics.
Many issues were brought up today, and it is my hope that this symposium sparked new interests for our participants. This last part was supposed to be a kind of summary, but we will end here without really wrapping up. For today, I think it's a wonderful way to close.
■Kurata: Perhaps Kyoto Seika University's Center for Innovation in Traditional Industries will become a virtual research lab instead of occupying a physical office.
■Yonehara: Maybe that's how it should be.
■Kurata: I think all of the speakers physically present here today would be happy to contribute to the virtual lab. With that, I would like to end today's symposium. Thank you everyone.

■Yoshimura: Today, we had the pleasure of listening to speakers with various expertise in diverse fields. I am sure the discussions were relevant to everyone here in the audience as each one touched on the fundamental issues of today's theme. It was an opportunity to examine the topics as a collective "we," and engage with the problems as our own.
I would like to express our sincere gratitude to our speakers and attendees. Thank you for your participation.
We - The Future Seen Through Craft: On the Publication of the Full Transcript
We - The Future Seen Through Craft: Opening Remarks
We - The Future Seen Through Craft【Part One】Fish Skin as a Fashion Material and the Dyeing Techniques of Kyoto
We - The Future Seen Through Craft【Part Two】For the Next 1000 Years of Handcrafts