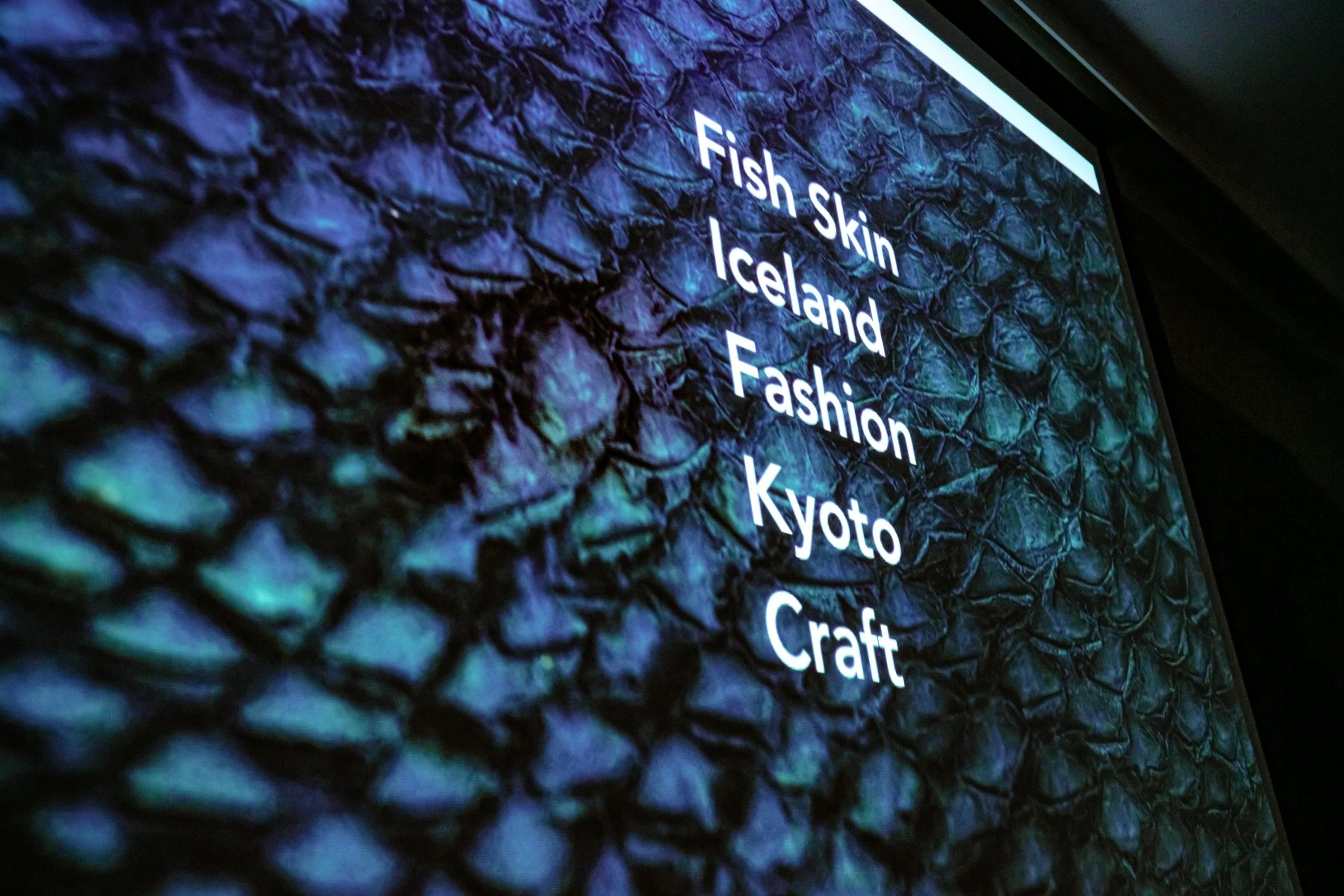 --
--
Moderator
Yuji Yonehara (Director, Kyoto Seika University Center for Innovation in Traditional Industries)
Born 1977 in Kyoto Prefecture. Yonehara is a Kyoto-based writer and journalist specializing in the field of craft. In 2017, he was appointed Special Lecturer at Kyoto Seika University's Center for Innovation in Traditional Industries. His work focuses on social research and education in the context of craft. Publications include Kyoto Shokunin - Takumi no Tenohira "Kyoto Artisans: The Palms of the Masters," Kyoto Shinise - Noren no Kokoro "Historic Kyoto Stores - The Spirit of Noren" (co-author, Suiyosha), Listen to the Blues of Artisan in Kyoto (Keihanshin L Magazine), and The Emperor Higashiyama's Enthronement Ceremony in the Edo Period, and Its 1/4 Size Model (co-author, Seigensha).
---
◆Presentation:Elisa Palomino
Fish skin are sourced from the food industry and it could be looked at as following the principle of the circular economy. If we can generate materials from a byproduct of the food industry, in this case the skins of the fish, it ties into waste prevention.
Iceland also owns the world's most efficient and sustainable fisheries as well. They use renewable and hydro-geothermal energy from the volcanoes, which makes the product much more sustainable.
Because Iceland is a small island far away from Europe, people have had to subsist on whatever was available to them. So, they used absolutely every part of the fish. This new industry is also creating new jobs for coastal dwellers of remote places like the north east part of the island where Atlantic Leather is based.
Atlantic Leather is a family-run business, which I think is another important aspect for fashion right now. The fish they use are mostly salmon, perch, carp, and wolffish.
The Arctic and Subarctic regions include the entire area that covers Iceland, all the Sámi countries in the Scandinavian area, the Russian far east, the northeast of China, Hokkaido and Sakhalin island, and all of the North American Arctic between Alaska and Canada.
I would also like to highlight the relationship that the Arctic indigenous peoples have with fish and the environment. Fish is still the primary food source for the indigenous communities, but they never made excessive fish reserves. They were only using what they needed and made sure that nothing was wasted.
I'd like to move on to talking about fish skin in contemporary fashion, and in order to do that, we need to go back to the 1930s and 1940s when Salvatore Ferragamo, the Italian shoe designer, had just come back from Hollywood where he was designing shoes for movie stars.
■Kokita: I would say so. In Japan, I don't think there is quite the same level of recognition for the value of sustainable or environmentally friendly manufacturing. Recently, we've seen Japanese companies taking on more initiatives in this vein, but consumer awareness has not caught up yet. The significance of our participation in the fish skin project is that we are able to directly engage with the progressive, ethical practices of Europe and North America. One responsibility I have as a participant is to take what I learn through this project and share it with people in Japan to spread awareness of the issues at hand.
■Yonehara: Matsuyama-san dyed the fabrics used to make these microphone cushions. I hope everyone can take a closer look later. Purple and green are traditional colors, aren't they?
■Matsuyama: Yes, we often receive requests to dye monk's robes in those colors.
■Yonehara: Matsuyama-san's workshop specializes in silks and this is true for most textile dyers in Kyoto. Dip-dyeing is just one of many dyeing techniques that is practiced in the area, but what all the Kyoto dyers have in common is that they mainly work with silk. So, I first want the audience to understand that a dyer in Kyoto, who is not used to working with materials other than silk, much less the skin of a fish, has taken on this challenge.
■Matsuyama: That's right. Whether it's fabric or fish skin, the hue appears twice as dark while the material is damp. Once it's dry, the colors become a lot more subdued.
■Yonehara: In order to respond to the demands of the fashion industry, we've asked him to try creating fairly vivid colors. Having said that, we are using plant-based dyes so it's not easy to produce bright hues that don't exist in nature. Matsuyama-san made a color chart for us and you can see that it's possible to achieve a wide range of colors by varying the combination of dyes and fixatives. However, we are limited in terms of the intensity.
■Matsuyama: In nature, there are a lot of yellow and brown tones. Of those, I selected the ones that had relatively vivid and colorfast pigments for the chart.
■Yonehara: We should also remember that what's beautiful about natural dyes are the subdued color palette. I understand you are varying the dyeing time and fixative to achieve vivid colors.
■Matsuyama: Having dyed some of the fish skin, my honest impression is that the color doesn't deepen as easily as it does for silk. Earlier it was mentioned that fish skin disintegrates at high temperatures. Silks on the other hand, are placed in plenty of water at high temperature to swell the fiber before adding the dye (T/N: water-swollen fibers allow for better absorption of the dye). When I first started working with fish skin, I didn't even know if the skin would absorb moisture. But I did know that if I raised the temperature too much, the fish skin would shrink. In order to increase color depth, I want to raise the temperature, but I haven't been able to do that because of the possible shrinkage.
■Yonehara: I know you've had to set up a separate workspace to dye the fish skin for us since you can't really use the same facilities as the monastic robes. Thank you for going through the trouble to contribute to our research.
■Kokita: This February, there was a networking event in Israel for the participating institutions. The main venue was the Interuniversity Institute for Marine Sciences (hereafter "IUI"), which is located in southern Israel in a city called Eilat on the coast of Red Sea. Because of the high salinity of the Red Sea, the area is suited for the cultivation of algae for fish feed and their research primarily focuses on aquaculture and fish farming. With the projected rise of the global population, they are also working to address the issue of global hunger. How could we increase food production and manage the consequent increase of byproducts without negatively impacting the ecosystem? As Elisa mentioned earlier, the skin makes up a large part of the waste in fish processing. The researchers at IUI have requested that the fish skin be utilized without causing negative impact on the marine environment and ecosystems. This is what I understood to be their motive for joining the project.
As we move forward with this research project, I'd like to maintain an awareness of its effect on the environment and pay attention to the ways in which raw materials are procured. Sustaining production is important but we also need to set our sights on sustaining a larger cycle. In that sense, I think the participation of IUI in this research is extremely salient.
■Yonehara: It's still in the testing stage, but I've brought with me some of the fish skin samples that Matsuyama-san dyed for us.
■Matsuyama: This is the first large piece that I dyed. Up until this point, I had been dyeing smaller pieces in lab beakers. I was given a few samples that were tanned using different techniques, and I wanted to see how each one took up the color. Depending on how they were tanned, some would shrink quite a bit with even the slightest rise in temperature.
■Yonehara: The tanning method affects the degree of shrinkage.
■Matsuyama: Some were not as affected by the temperature rise. I was afraid to dye the ones that would shrink easily.
■Yonehara: This is also a difficult material for the dye to penetrate.
■Matsuyama: Yes, it's quite difficult. If I raise the temperature too much, some would shrink and firm up and the surface would flake off when touched. When this happened, it would reveal a kind of gelatinous layer underneath, which was not dyed at all. This confirmed that the dye had only adhered to the surface of the fish skin.
■Matsuyama: I think from this point on, we need to start thinking about a dyeing process that is suited to the tanning method and vice versa.
■Matsuyama: Normally, when I work on materials for kimonos, I often think about color "removal." Because when you add family crests on a pre-dyed kimono (T/N: the crest design is usually painted on a white or colorless background), or change the color of the garment through re-dyeing, the ease of color removal becomes an important factor. My job is to dye the materials so that the color stays, but when it comes time to decolorize, the dye also needs to be thoroughly removed. Perhaps the use of dyes that can later be removed is unique to my profession of dyeing kimono textiles.
■Yonehara: The fact that some day you might need to remove the color, is taken into consideration in the choice of dye.
■Matsuyama: It's part of kimono culture to re-dye and use the same textile across multiple generations. In terms of the standards for colorfastness, I think what is valued (in dyeing kimono) is fundamentally different compared to the fashion industry.
■Kokita: The process of tanning comes before dyeing and once the fish skin is dyed, there is the process of surface treatment. Our next major challenge is to think about how to link these processes. If we can thoughtfully combine their strengths, we may be able to overcome some of the issues we are having with the material.
■Yonehara: Elisa-san, what do you think of the color Matsuyama-san chose for this piece?
■Elisa: It's my favorite color, I love it.
■Elisa: I think one of the most important things is to make sure we have a sustainably made product (both in the tanning and dyeing processes), that meets the quality standards for use in the fashion industry. We also need to develop other techniques such as printing or foiling because the current textile foiling technology is not very sustainable. How we position ourselves in the market is also key. We need to work on marketing strategies and business planning. We have received interest from the luxury industry. Through the connections we already have, we should explore where we can go with that. At the moment we are working with the fashion departments of the universities involved, but eventually we may be able to invite other disciplines to collaborate. So, I think there are a lot of things that could be achieved in the coming years.
■Yonehara: Earlier, Elisa-san talked about fast fashion brands and how we should avoid using fish skin to mass produce products for them. But rather than turning away from those companies because of a difference in philosophy, I think it's important to not only include them on our list of potential corporate partners but also seek concrete ways to collaborate and offer handcrafted, sustainable materials. I believe such a shift in thinking can also bring change to the difficult situations that artisans currently face in family-run workshops and businesses.
■Matsuyama: The dip-dyeing industry is in dire straits right now. For me, participating in this project has allowed me to gain meaningful experiences. I hope I can bring what I learned into the field of traditional dip-dyeing. Normally I use chemical dyes in my work, and I am aware of the negative effects on the environment. I had been working with plant dyes in my personal work before I joined this research but being a part of the fish skin project has given me the opportunity to rethink the future of textile dyeing.
■Yonehara: In the history of the Ainu people in Hokkaido (T/N: the indigenous people of Japan), there is a tradition of processing fish skin. There are similar traditional practices in the Tohoku region as well. Neither are active industries today, but it is embedded in the memories and cultures of the place. The advantages we have as a university is that we can take on these challenges, some of which do not immediately produce profit, and continue our research in hopes that it might one day change the world. We also have a responsibility to think realistically about the financial aspects of the research, together with those outside of our school who support the project. All that to say, we need diverse perspectives for this research. I hope we can find new collaborators to expand the network in Japan and abroad.