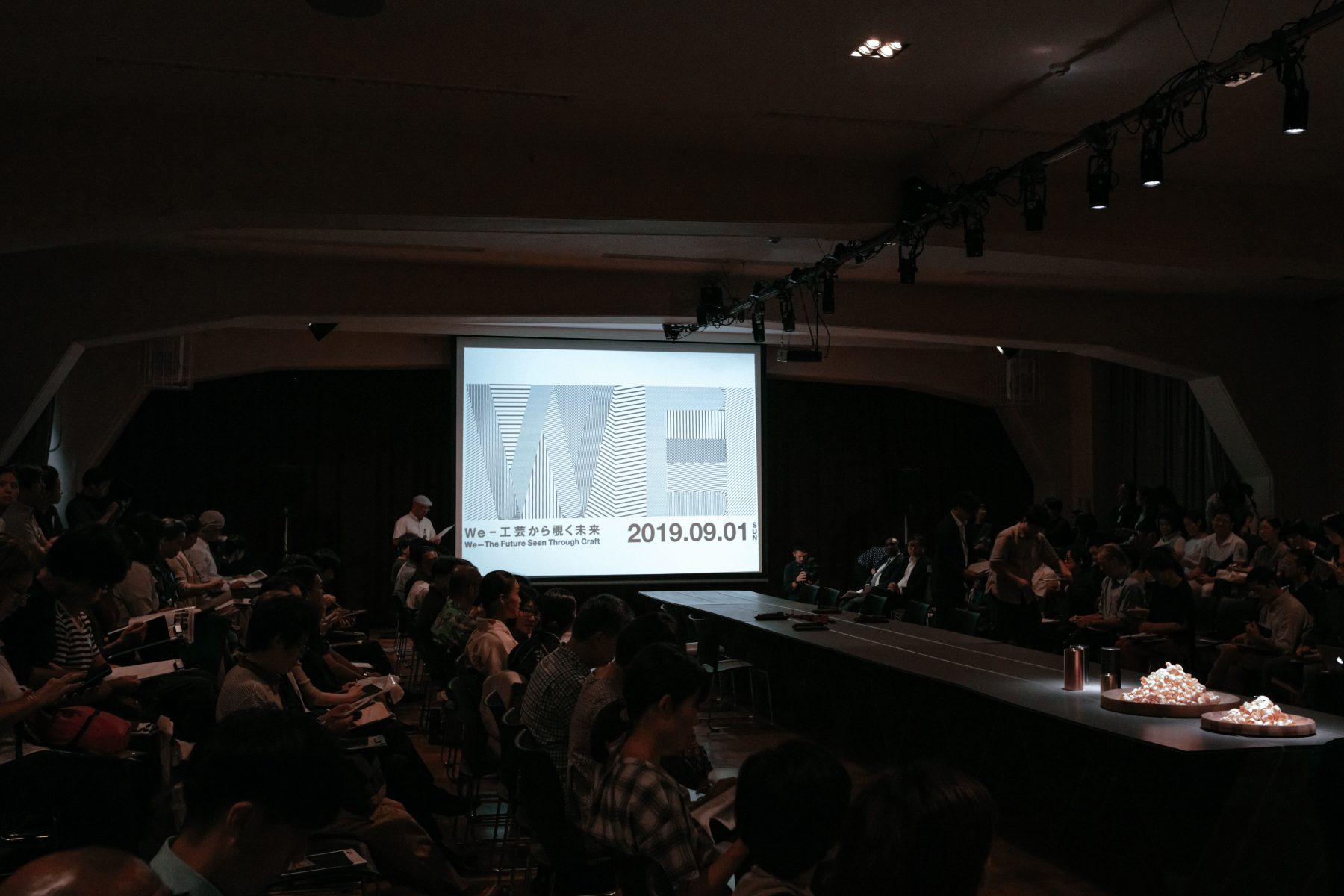 //////////////////////////////////
We–The Future Seen Through Craft: Opening Remarks
MC
Kazuma Yoshimura
Kyoto Seika University, Vice President
Yoshimura completed doctorate coursework at Ritsumeikan University Graduate School. He specializes in the history of ideology and manga research. Currently he is working to address societal issues using the results of his research. His published works include Sabetsu to Mukiau Mangatachi (Manga that Confronts Prejudice)  (2007), Manga no Kyokasho (Manga Textbook) (2008), Fukusuu no Hiroshima (Multiple Hiroshimas) (2012), "Konbiniensu na Manga Taiken toshiteno 'Chiran'—Jitsuroku Kamikaze no Media Rikigaku" ('Chiran' as a Convenient Manga Experience—the Media Mechanisms of Jitsuroku Kamikaze) (printed in Chiran no Tanjyo edited by Yoshiaki Fukuma, Makoto Yamaguchi, 2015), Tezuka Osamu—Gyakufu ga Hagukunda "Manga no Kamisama" (Tezuka Osamu—The 'God of Manga' Raised in Adversity) (printed in Hitobitono Seishinshi volume 4, Iwanami Sosho, 2015), Shogai no Aruhitotachi ni Muketa LL Manga eno Shotai—Hatashite Manga wa 'Wakariyasui' noka (An Invitation to Lättläst Manga for Readers with Disabilities—Are Manga Easy to Understand?) (2018).

Introductory Remarks
Oussouby Sacko
Kyoto Seika University, President
Born in Mali in 1966, Oussouby Sacko studied in China, majoring in architecture. Residing in Japan since 1991, he earned his PhD at Kyoto University's Graduate School of Engineering, Department of Architecture, researching relationships between society and architectural space. His publications include Literacy and Culture of Knowledge (Nakanishiya Publishing, 2007). Joining Kyoto Seika University in 2001, he was promoted to Professor in 2013. On April 1, 2018, he was inaugurated as President of the University.
Akimasa Yamashita
Vice Governor, Kyoto Prefecture
Yamashita was appointed to his current position in 2013 after serving as Director of the Department of Commerce; Director of Planning and Director of the Department of Commerce, Labor and Tourism; and Director of Planning in the Department of Emergency Economic Measures and Future Strategies in Kyoto Prefecture.
Kanoko Tamura, Nobuko Aiso, and Tomoko Momiyama
//////////////////////////////////

■Yoshimura: We will now begin the symposium We—The Future Seen Through Craft, hosted by Kyoto Seika University and Kyoto Kougei Week. My name is Kazuma Yoshimura, Vice President of Kyoto Seika University, and I will be your emcee for today. Thank you all for coming.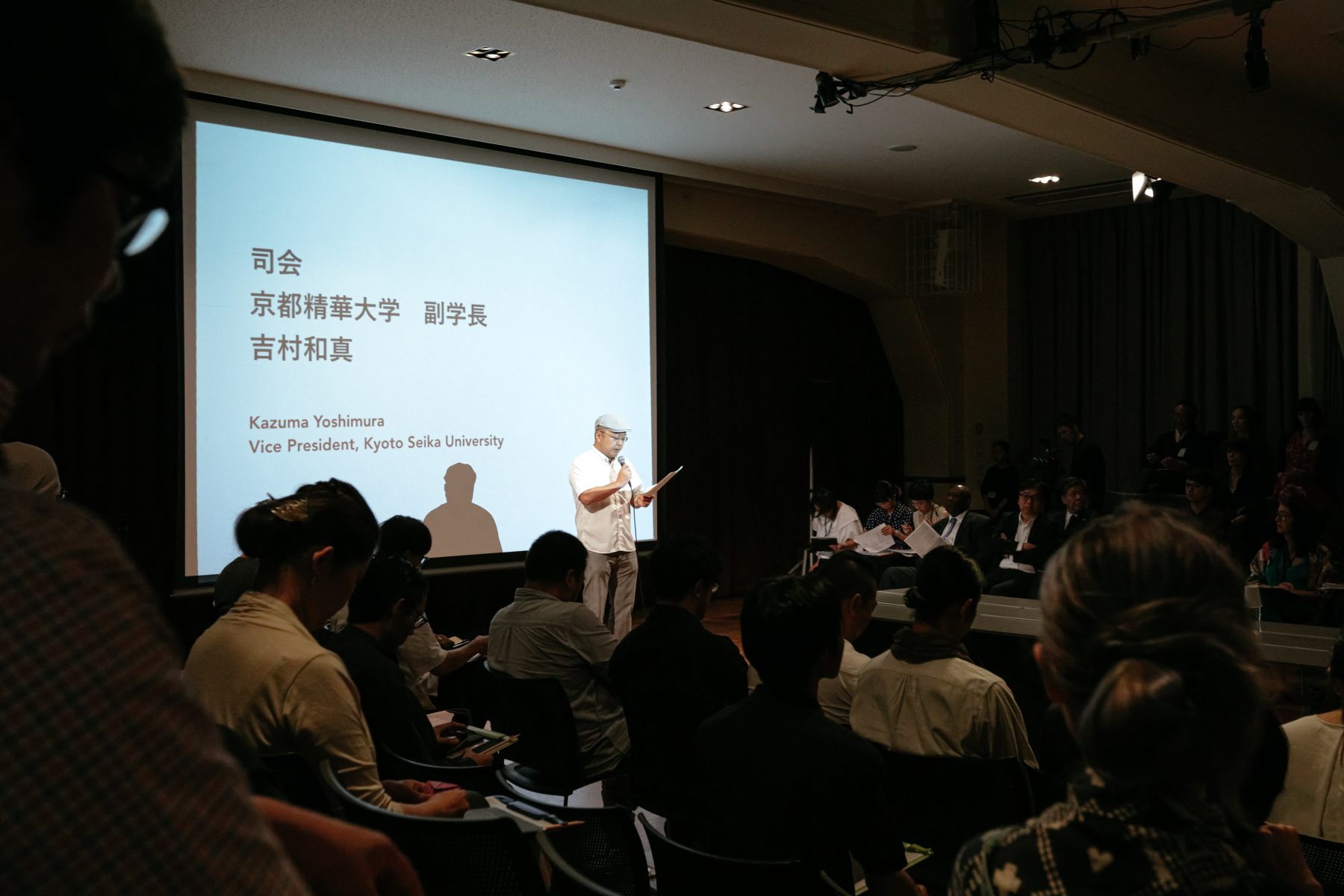 Kyoto Seika University offers its programs in the five faculties of Art, Design, Manga, Popular Culture and Humanities (Starting in 2021, Seika will open two new faculties [Global Culture and Media Creation] and a cross-disciplinary degree program [Human Environment Design] in place of Popular Culture and Humanities). Integrating all of the faculties together, we aim to be known as "a university of expression."  Our mission was selected by the Ministry of Education, Culture, Sports, Science, and Technology (MEXT) for the Private University Research Branding project in 2018. Our research topic for this project is deeply tied to today's symposium: traditional cultural expressions in the context of a sustainable society. We invite you to join us today for this dialogue-based international symposium. As you can see, the layout of the venue has been designed to encourage conversation and exchange.

This event is also part of an initiative titled Kyoto Kougei Week, a series of craft and traditional cultural programs taking place primarily in Kyoto Prefecture. Today's venue, Kyoto International Manga Museum, is jointly operated by Kyoto City ad Kyoto Seika University. We hope to work in partnership with various institutions and stakeholders to shed light on the challenges "we" face. Now, I'd like to hand the mic over to the President of Kyoto Seika University, Oussouby Sacko, who will make his introductory remarks.

Sacko: Hello, everyone. My name is Oussouby Sacko. I have served as President of Kyoto Seika University since last year. As mentioned in Vice President Yoshimura's introduction, Kyoto Seika University has been involved with traditional industries for many years. And I am deeply grateful that at long last, we are able to bring you this event in collaboration with Kyoto Prefecture and our various partners.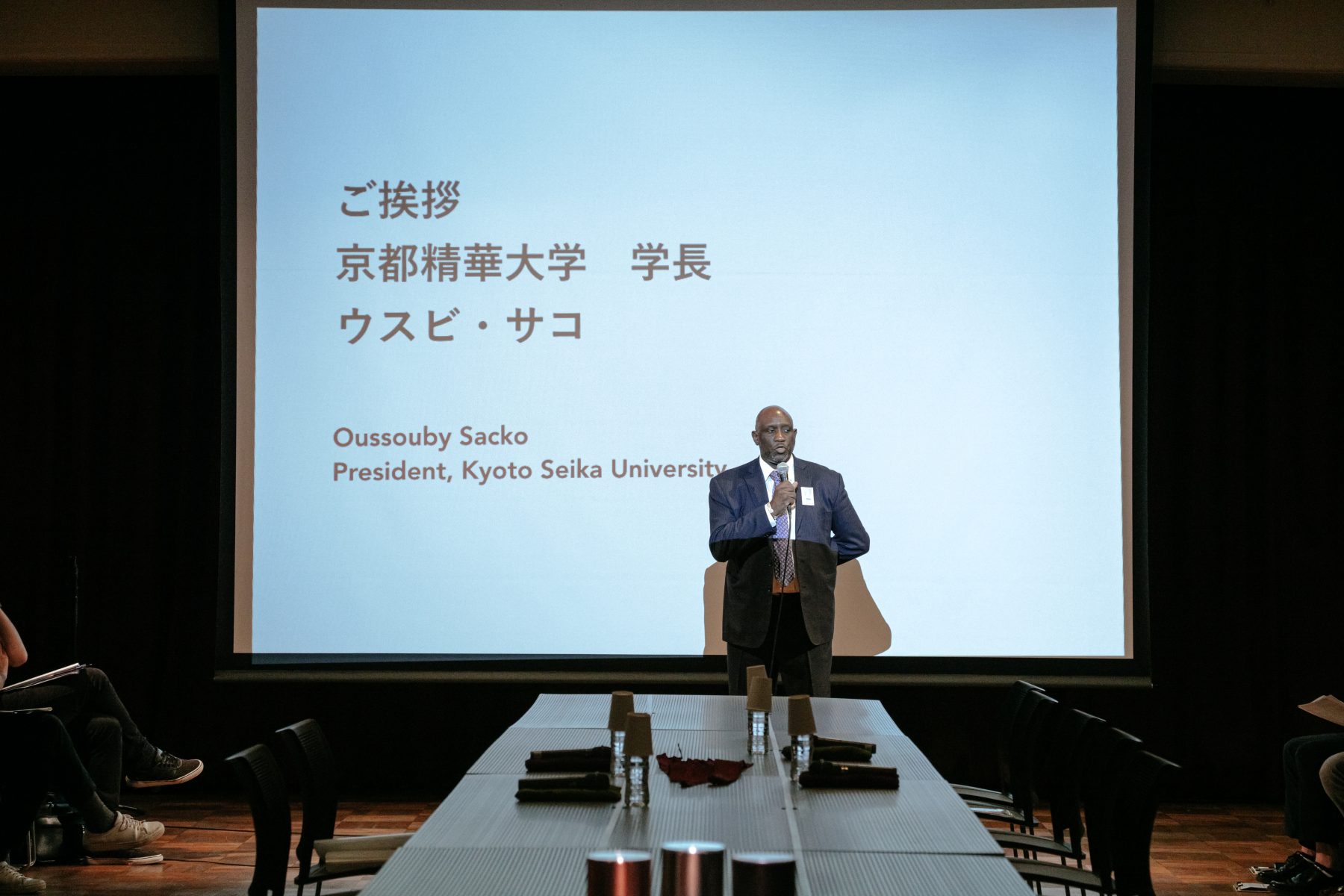 For more than 40 years, Kyoto Seika University has organized the Kyoto Traditional Crafts Internships, and over 3,500 students have participated in this two-week program to study alongside artisans in their workshops. While the craft community has been extremely generous with their cooperation and educational support, we have not been able to address the various issues that traditional industries face, such as the lack of successors. In order to take on these issues, we established the Center for Innovation in Traditional Industries in 2017. The core mission of the Center is to explore the future of traditional industries through innovation.
I am from the Republic of Mali where there is a thriving traditional industry. In Mali, the traditional industry is hereditary, which means the skills are passed down from father to child and there are families who have been in the same business for many generations. What is different between Mali and Japan is that Mali uses oral tradition, meaning there are no written records. This is why there are some cases where techniques or knowledge are lost because they were not passed down. While this may not be a concern for Japan, I suspect what is happening in Mali is also happening in many other parts of the world. In that sense, it is crucial to make a place for discussion on innovation within traditional industries, record the conversations, and utilize the documentation to support the industry. I believe this symposium is the first step in the process.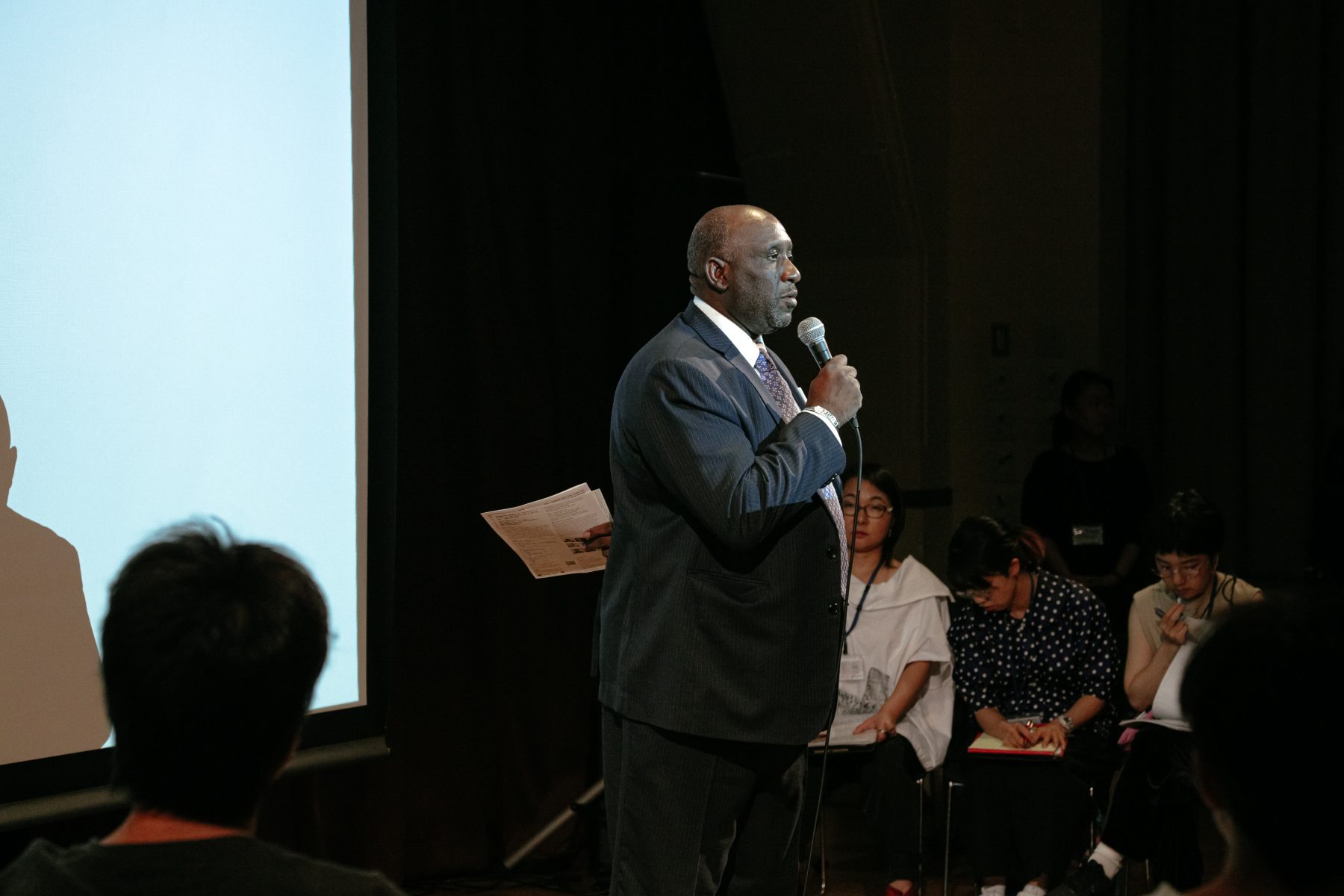 Through today's event, I hope to see an active exchange of diverse views and values as we discuss how to approach the present and future of traditional industries. I also hope that by the time you are on your way home, you will have newfound insights on this subject. I would like to thank our panelists for agreeing to participate in this symposium. Although we are a small university, we hope to continue shining brightly into the future with the life force of Kyoto. Thank you for your continued cooperation and support.
■Yoshimura: Next, I would like to invite on stage Vice-Governor Yamashita of Kyoto Prefecture. Kyoto Prefecture is the principal organizer of Kyoto Kougei Week.
■Yamashita: Thank you all for attending this event on your day off. This symposium was made possible by the efforts of Kyoto Seika University. I would also like to express my gratitude to the panelists. Thank you.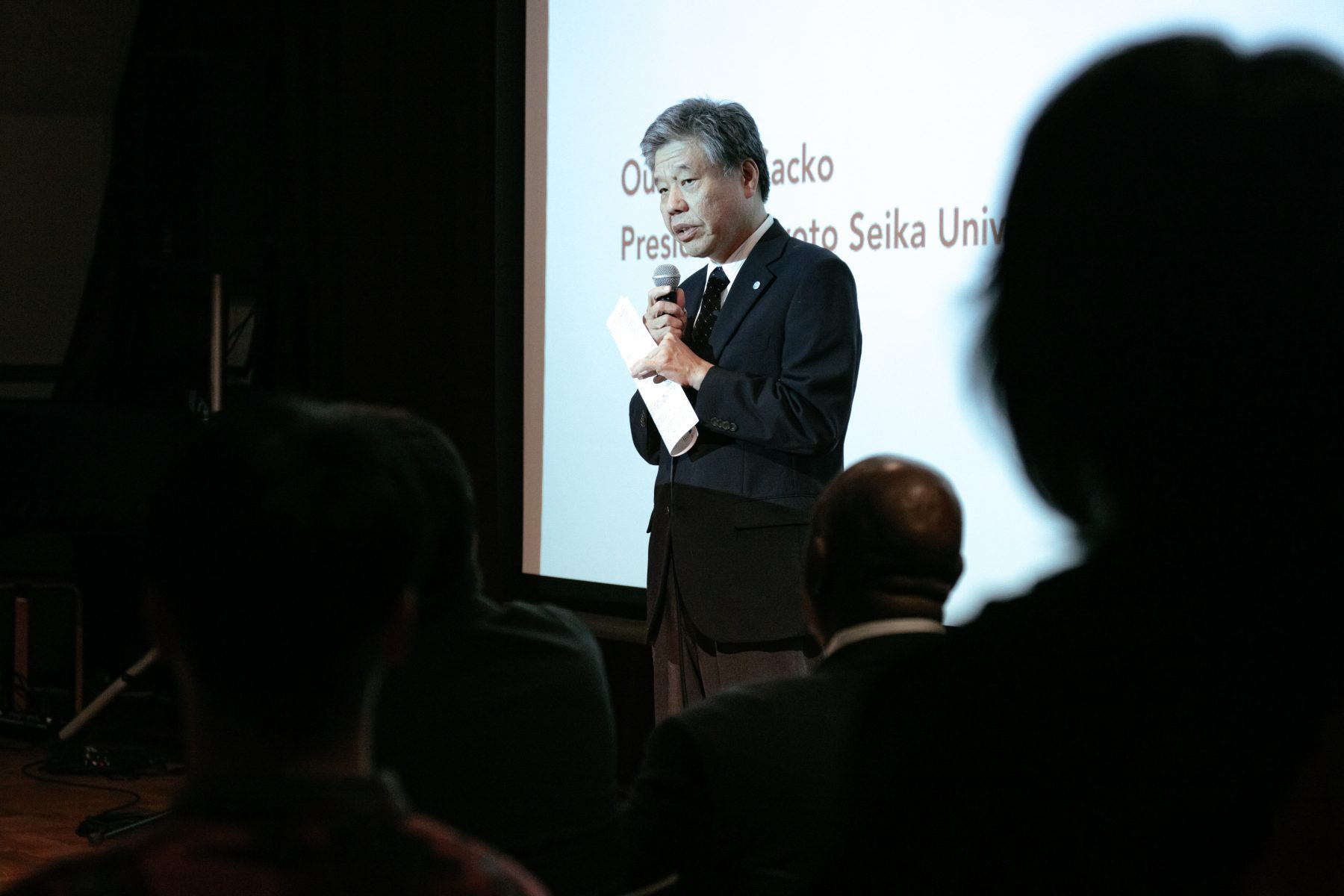 As we are at Kyoto International Manga Museum, I would first like to acknowledge the tragic incident that occurred recently at Kyoto Animation. For the past two to three weeks, I have spent many hours on the plans for reconstruction. 35 people lost their lives, 34 were injured, and there are still many who remain in critical condition.  I believe the rebuilding of Kyoto Animation will be extremely important for us and I would like to ask for your support in this effort.
In 1999, Kyoto Prefecture formulated the Vision for the Revitalization of Industries. I was one of the project members at the time, and the keyword we had then was "glocal." This term came out of the discussions we had about the ways Kyoto could leverage its local characteristics in a global society. The first part of today's symposium is titled "Fish Skin as a Fashion Material and the Dyeing Techniques of Kyoto." This topic directly addresses sustainable practices in the industrial sector amongst other challenges we face globally, such as the protection of biodiversity and effective use of limited resources. I hope this will provide an engaging opportunity for us to think about the use of fish skin and its significance in relation to these current concerns.
The second part is titled "For the Next 1000 Years of Handcrafts." I practice calligraphy, and I'm always impressed by the incredible techniques of hyogu (paper mounting) artisans who mount calligraphy onto hanging scrolls. In hyogu, there is a process called ura-uchi, where a sheet of paper is glued onto the back of the calligraphy paper using a weak adhesive. The reason for using weak glue is so that it's easy to peel off when it comes time to repair it. How neatly the sheets can be separated generations from now, is an important consideration in the process. This is one example of the ways Japanese culture thinks about continuity, while working closely with and borrowing from nature. It's an important mindset as we look towards a sustainable society in the future. To establish a truly diverse and global society, I think it is necessary for us to respect one another's culture and ideas and resist the homogenization of values. Working together towards these common goals will make way for our future.
The layout of the venue reminds me of the House of Commons Chamber in the UK, the birthplace of democracy. When I first entered this room, I felt a rush of excitement. Please enjoy today's symposium and as President Sacko said, I hope that this will serve as an opportunity for everyone to share their thoughts on the future. Thank you all for coming.

■Yoshimura: Thank you. Now, we will begin part one of the symposium, "Fish Skin as a Fashion Material and the Dyeing Techniques of Kyoto." Panelists, please take your seats at the table.
We - The Future Seen Through Craft: On the Publication of the Full Transcript
We - The Future Seen Through Craft【Part One】Fish Skin as a Fashion Material and the Dyeing Techniques of Kyoto
We - The Future Seen Through Craft【Part Two】For the Next 1000 Years of Handcrafts
We - The Future Seen Through Craft【Discussion】Passing the Baton to the Future
[In Pictures] We - The Future Seen Through Craft

//////////////////////////////////
We–The Future Seen Through Craft
Inaugural symposium hosted by the Center for Innovation in Traditional Industries at Kyoto Seika University and Kyoto Kougei Week 2019
Date and Time: 1 September 2019 13:00-17:30 (Doors Open 12:00 noon)
Venue: Kyoto International Manga Museum 1F Multipurpose Video Hall
Karasuma-Oike, Nakagyo-ku, Kyoto 604-0846 JAPAN (former Tatsuike Primary School)
Host: Center for Innovation in Traditional Industries, Kyoto Seika University
Support: Kyoto Kougei Week Executive Committee
Cooperation: Agency for Cultural Affairs, Government of Japan; Kyoto Prefecture; Kyoto City; Kyoto Chamber of Commerce and Industry
Participation: Free / Pre-registration required